Malang Raya—In building the familiarity among Ellite students both senior and freshmen the department made an event called Welcome Freshmen. The event was held in Villa Putih, Songgokerto Batu, East Java on November 12-13, 2016. In the event, the Ellite students planned various interesting and educating programs. The freshmen, some of them come from various area outside East Java, look so enthusiastic to attend the program while enjoyed beautiful Batu landscape.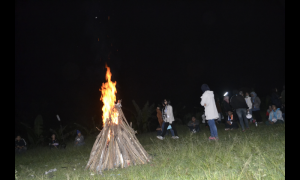 in the morning Mr. Mirza Suharto, an alumni and is now serving as the head of Public Relation Unikama, attended the event to motivate and broaden the students' view on why they should choose English Literature Department as a proper place to learn. The students looked so happy with his presence and motivation because he presented his topic interestingly and sometimes added some jokes to fresh the atmosphere.
On the 2nd day they had an outbound to train the students how to work in team and the program was ended at about 15.00, then they went home back to University of Kanjuruhan Malang .
Ellite Admin,
Welcome Freshmen 2016 – Senior Freshmen Students' Familiarity Event